The expanded partnership between FeedbackFruits and D2L will help provide D2L Brightspace users with scalable pedagogical solutions for peer feedback, social annotation, team-based learning and polling to help drive effective teaching and learning.
FeedbackFruits, an education technology company that provides pedagogical solutions, today shared that it has become a strategic partner in D2L's open learning ecosystem. This can help provide participating D2L Brightspace users with easier access to FeedbackFruits' solutions for active and collaborative learning. The expanded partnership will introduce combined go-to-market opportunities to support a harmonious experience for customers.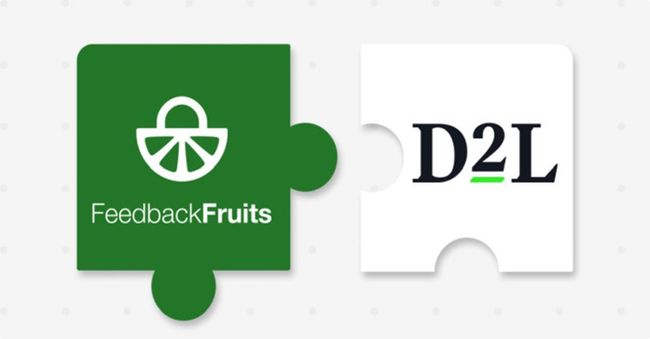 The partnership is built on a shared mission of helping institutions create connected teaching and learning ecosystems that nurture meaningful educational experiences and can equip students with the transferable competencies they require to succeed. FeedbackFruits, together with over 100 partners, has co-developed a tool suite of 15 solutions that fully integrate into D2L Brightspace through LTI 1.3 and API integrations, adding a seamless pedagogical layer to the Learning Management System (LMS). As part of the partnership, D2L customers will have a selection of three FeedbackFruits solutions for Brightspace; Peer Feedback, Social Annotation, and Team-Based Learning & Polling, or can also implement the entire FeedbackFruits tool suite for a full transformation.
The FeedbackFruits tool suite has been adopted at institutions using D2L Brightspace throughout the world, such as Central State University, Victoria University, and Queen's University. The expanded partnership can help support high-quality education with a robust, flexible, and connected learning ecosystem.
"We are excited to expand our partnership with FeedbackFruits," said Katie Bradford, VP of Product Partnerships at D2L. "At D2L, we believe in the power of partnership to support the delivery of solutions that can help transform the way the world learns."
Ewoud de Kok, CEO and Founder of FeedbackFruits, emphasized the importance of educational technology companies working together: "To meet the needs of educators and learners, the edtech landscape needs to be led by collaboration. I'm very proud that the partnership with D2L allows us to make teaching and learning easier and more impactful for higher education institutions."
About D2L
D2L is transforming the way the world learns-helping learners of all ages achieve more than they dreamed possible. Working closely with clients all over the world, D2L is supporting millions of people learning online and in person. Our growing global workforce is dedicated to making the best learning products to leave the world better than they found it. Learn more about D2L for K-12, higher education and businesses at www.D2L.com.
(c) 2023 D2L Corporation.
The D2L family of companies includes D2L Inc., D2L Corporation, D2L Ltd, D2L Australia Pty Ltd, D2L Europe Ltd, D2L EU B.V., D2L Asia Pte Ltd and D2L Brasil Solucoes de Tecnologia para Educacao Ltda.
All D2L marks are trademarks of D2L Corporation. Please visit D2L.com/trademarks for a list of D2L marks.
Contact Information
Irmak Ozgenoglu
Marketing Manager
irmak@feedbackfruits.com